One of the primary roles of a restaurant is to provide a menu that large sections of the general public find enticing. It is therefore wise to do some market research. This may involve asking people to fill out surveys concerning their favourite dishes.
Research Is Key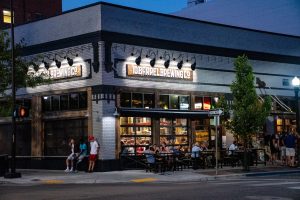 The restaurant can also analyse the other food businesses in their area. If there is actually a gap in the market, the new restaurant could fill it before someone else does. In recent years new rules have been introduced, which force eateries to detail the calorific intake of each menu item. Consequently, the owner has to be aware of every ingredient in each dish. This should also include any potential allergens.
It is always a good idea for chefs to play to their strengths. Many of them will specialise in a specific type of cuisine. It is often categorised in terms of national heritage. Popular examples of menus include French, Indian, Chinese, Italian and Jamaican. Sometimes the recipe is unique to the individual chef. It could be passed down through the generations. If the eatery owner serves these items, then it can help them to attain a cult following.
What to Put in the Food
Ingredients are the key to a great dish. It is common for restaurants to create menus based on the fresh items available to them. For example, food businesses within seaside areas may serve a lot of fish. Ones located within farmland could focus on the crops that are grown there. Food critics can tell if ingredients have been recently cultivated as opposed to simply frozen and thawed.
Graphic Design
Once the restaurant has come up with some winning dish ideas, it is time to create the physical menu. Doing so will require a reasonable level of graphic design skills. If the owner is concerned about it, they could hire an expert to do this for them. Great looking menus contain fun colour schemes and easy to read fonts. It is easy to fall into the trap of making the menu appear overly generic. Instead, it should showcase the unique personality of the eatery.