Restaurant customers tend to base their initial impressions on the quality of the décor. This will be the first thing that they see when they walk through the door. Unfortunately, it is even possible for a poor interior design to ruin the entire eating experience.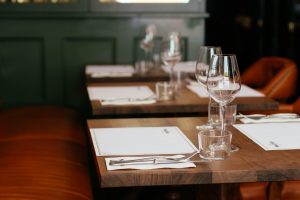 There are many different options when it comes to decorating the inside of eateries. The aim is to communicate the specific character of the business. The great thing about interior design is that there are so many options available. Some people might opt for an understated look. This may involve a simple black and white colour scheme and a relatively spacious interior.
However, others will want to fill the room with bright items for customers to visually engage with. This is common in family restaurants. There could be wall art or unusual looking furniture items.
It is wise to have a general idea of what the interior should look like. Doing so will narrow down the décor products that need to be ordered. When owners do not have a concise plan, it can cause them to utilise elements that do not work very well together.