It is not unheard of for people to travel to the middle of nowhere in order to experience a top-quality restaurant. However, the business will have needed to already establish itself successfully. Newer ones should instead be in an easy to access location. Eateries close to residential areas and town centres tend to do very well.
Parking and Space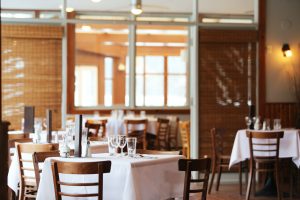 Many customers use a car to get to these establishments. Therefore, parking spaces should be abundant. However, in some areas parking charges have increased significantly. This may end up putting some people off. If the restaurant has its own parking just for customers, then the owner may consider making it free. This is a tactic that potentially brings in more people.
It is also vital that the owner considers the amount of space available. The dimensions of the interior will affect customer capacity. One common mistake is to fill up too much space with tables and chairs. Instead, it is better to leave plenty of room for customers and staff members to move around.
Other Venue Expenses
Before purchasing furniture, the maximum number of diners has to be determined. The venue might also need to comply with accessibility rules. This may involve building ramps or widening pathways.
The kitchen will be an essential area of the restaurant. The equipment installed within it will dictate how much food can be cooked at once. A lot of owners like to invest in modern, high-quality ovens. New ones are sometimes capable of self-cleaning, which will save a significant amount of time. The kitchen floors will have to be made from a material that is easily washable as well.